Overview
As the urgent demand for cost reduction and efficiency improvement of oil & gas development under the low oil price market increases, how to carry out exploration and development of oil & gas resources more effectively and efficiently becomes the key concern for major oil and gas companies.
iCore's new generation digital rock technology system, featuring the algorithm optimization and big data analysis, provides a unique solution covering the entire chain of oil & gas industry, from exploration to development, including rapid reservoir evaluation, rapid decision making for stimulation plan, formation damage evaluation.
By providing new insights of the pore-scale features, we help oilfield developers understand their reservoir and development potential more deeply. We deliver unique solutions to our clients that help them optimize their operation plan, improve their decision making efficiency and enhance their oil recovery rate.
Optimize Strategy for E&P
Key constrains of traditional laboratory core analysis:
Large volume, time consuming, expensive
Cleaning with environmentally hazardous solvent
Damaged and non-reusable after experiments
Become loose because of weathering, difficult to reserve and analyze
Solutions with digital core analysis:
Fast analysis without damage using only lb of samples or cuttings
On-site analysis, environmental friendly
No integrated core required, even cuttings can be used
Affordable and fast
Optimize Strategy for E&P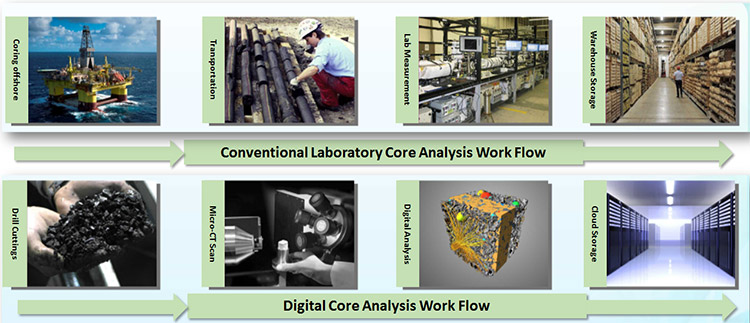 Digital Core Workflow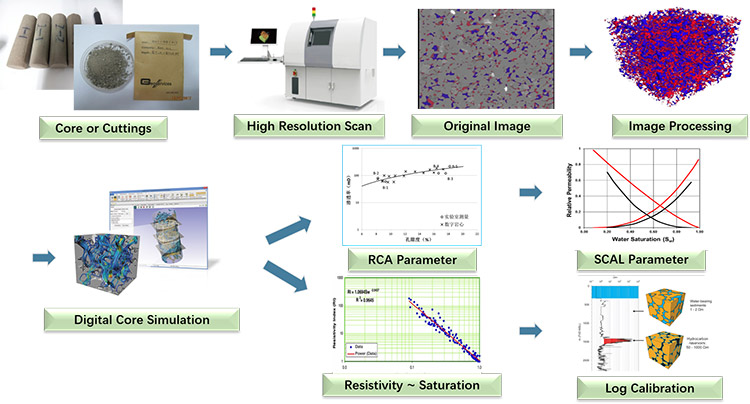 Current Service Summary
Digital Core Routine Analysis:
Porosity
Permeability
Saturation
Pore throat statistics
Digital Special Core Analysis:
Unsteady state relative perm
Steady state perm
MICP
Customized Digital Analysis:
Customized Digital Analysis:
Coreflood + uCT scan
Formation damage evaluation
EOR simulation
Clay 3D distribution